Suiting Up With Indochino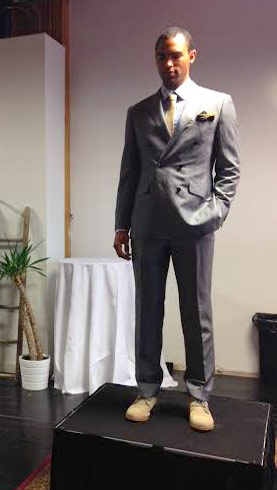 Last week was a busy one for us, we tackled two shops in one day and at the end of it we managed to put on our heels and head over to the Indochino Showroom to see what this new locally grown business is all about.
Custom made to fit suits! Pick your inside lining, a pocket for your smart phone, get it monogrammed. However you like it, the choice is yours. They have the fabrics imported from Italy. The measurements can either be done at their showroom (located in Railtown) or they also provide a travelling tailor.
Their goal: To make any man a GQ man. They make it easy with their moderate price range and stylish choices in fits and fabrics. One thing that you know is important to us is Customer Service. We got to chat with two of their showroom tailors, Sam and Neal, who also have a strong emphasis on making their client happy. It's not just about the suit for them, it's about having that relationship with your tailor, a big part of their brand. All in all, stylish suits, moderate price ranges and friendly staff, Indochino is tailor made for us.