Day 2: Olive + Ruby and TurF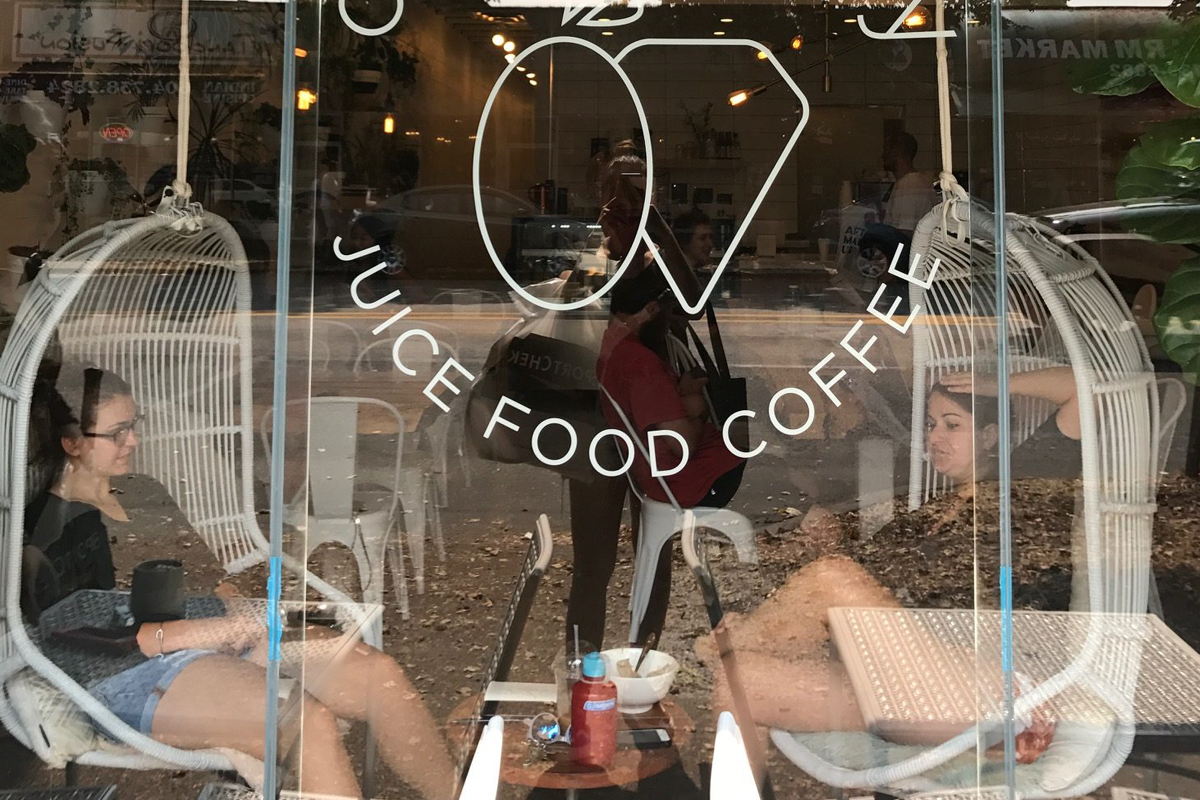 One cute coffee shop that is totally distracting to take pictures than actually work and one coffee shop that lets you stay fit. What both of these coffee shops have in common is that they are both carry vegan, vegetarian and gluten free food.
Olive + Ruby, such cute name for a coffee shop, what's also cute about it, is their white swings and colorful murale. Olive + Ruby is made after the owners daughters. Both working parents named it after their daughters to remind them of why they built the coffee shop as inspiration to provide a beautiful life for their kids. The shop does bring a childful like environment as the swings they have displayed by the glass window, the color scheme used from the tables, to the murals and to the green plant pots all over the the other side of the wall. One more thing I love about this shop is their little dj booth by the bar, while we were there it was playing jazz music. The only thing I wasn't sure about was their vegan power bar, it does have chocolate bits in them but it doesn't justify the fact that there's chocolates. Note to self, even though there's chocolates don't get fooled by the fact that it's vegan. The chai tea they have was great. Overall, it is such a cozy environment to hang out with a friend or to go on your own and do some work. In addition to their shop, there's not enough outlets for each side of the table to bring your laptop and spend the whole day there doing work.
After our visit to Olive + Ruby, which is in West Broadway, we made our way to W 4th. Walking around W 4th, we made a couple of stops at the new Reigning Champ boutique and Savoie. Where we later found a coffee shop/boxing and fitness gym called TurF. Where you can workout, hangout and take out.What caught my eye was the color of the building, black concrete wall and big white sign. This place has three key features, the coffee bar itself that serves vegan and gluten free food, the boutique inside the place in the back corner, in between the coffee shop and the gym. They carry their house merchandise as well as other brands. It's such a cool concept because after a high intensity workout, you can relax at the coffee shop to have some healthy meal and drinks, such as kombucha and a healthy diet meal. The environment itself has a good high energy and motivating space to come and do work. You can do it all in one go.
It's definitely worth both checking these places out, whenever you're in the area.