Eco Fashion Week with the Obakki Foundation.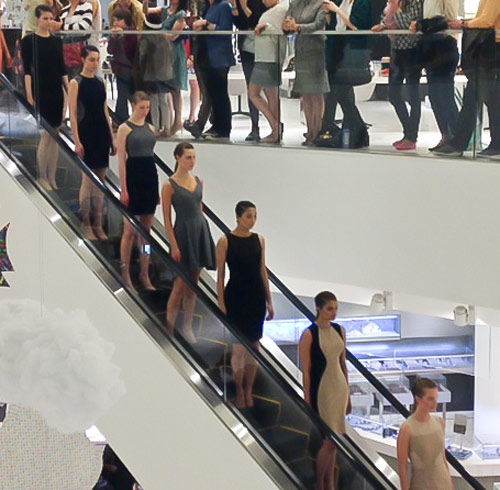 I'll start by stating that Eco Fashion week is always a must attend for me. It's fashion with a cause and Obakki did not fail to impress. The foundation they have built is nothing short of inspiring. "It all begins with water". If you're unfamiliar with what they do i'll give you a brief summary but please take a look at their website to educate yourself further (www.obakkifoundation.org) Obakki donates 100% of their profits towards making water wells in third world countries. Not just a portion of proceeds but 100%! They've now created over 500 water wells for these people in need.
Aside from the good they do, the pieces they displayed in their fashion show hosted by Holt Renfrew were simply beautiful and the show itself was very innovative, unlike anything we've seen from previous EFW events. With just about 700 people in attendance they needed to amplify the space of their 3 floor store and what better way than to have the models strutting floor to floor by incorporating the escalators. It was apparent that a lot of hard work, dedication and creativity were put into the evening, I applaud all those involved and you can bet I'll be in attendance again next year!